Zami, Rupert Raj, Khush, and Gay Asians of Toronto
M. Mohamed
Friday, May 22, 2015
Toronto has a long history of organizing within queer and trans people of colour (QTPOC) communities.  The presence of safe(r) spaces made accessible to QTPOC- from Salaam Canada's network of queer Muslims, through to the black queer oriented Pride programming spearheaded by Toronto's Blockorama- by no means came out of a vacuum. Rather, we owe the vital QTPOC spaces we have today, to the groundwork laid by earlier generations of QTPOC community organizers and activists. Below are some highlights of those seminal QTPOC organizing efforts, all of which can be found at the CLGA:
1. Zami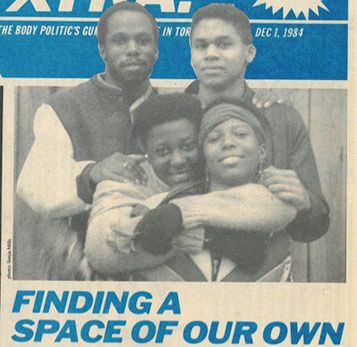 Above: Zami featured on the cover of Xtra!, December 1984
In 1984, Zami- the first Canadian group for Black and West Indian gays and lesbians- was formed in Toronto. Along with Gay Asians of Toronto (see below), Zami organized "Lesbians, Gays, and Race," a 1985 video and panel discussion held at the 519, on race and sexuality. Within a year of their formation, Zami had already managed to land itself on the front cover Xtra!, and the group was profiled as "combining potluck suppers with peer counselling and discussions on topics ranging from co-parenting to discrimination in local bars" (Xtra! 1984). Flyers, promotional materials and articles on Zami are all available at the CLGA.
2. Rupert Raj
Above: Portrait of Rupert Raj for the CLGA National Portrait Collection     Artist: Maya Suess
Rupert Raj is a trans activist, writer and psychotherapist. In 1978, Raj started the Foundation for the Advancement of Canadian Transsexuals. Raj also founded Metamorphosis magazine- from 1982-1988, the magazine developed an international readership, providing information and resources for trans men. These days, Raj works as a counsellor for LGBTQ communities, and is the co-editor of Trans Activism in Canada: A Reader. Rupert Raj's Trans Collections is available at the CLGA.
3. Khush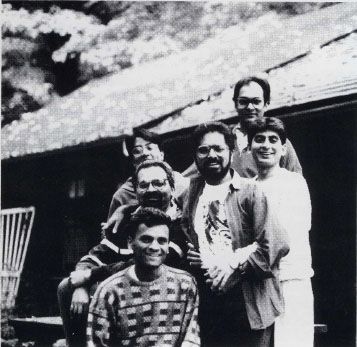 Above: Khush's first cottage retreat for South Asian identified gay men, 1988.
Founded in 1987, Khush: South Asian Gay Men of Toronto organized monthly meetings for queer South Asians in Toronto (their membership later expanded to include women as well). Throughout the late 80's and 90's, Khush organized a variety of queer South Asian cultural and community events, including their landmark Desh Pardesh festival, which highlighted South Asian art, culture and politics (the annual festival ran until 2001). Under Khush's leadership, the group founded vital print publications including Khush Khayal (the first South Asian gay and lesbian newspaper in Toronto, founded in 1989) and a quarterly zine titled Avec Pyar. Khush's print materials are all available at the CLGA.
4. Gay Asians of Toronto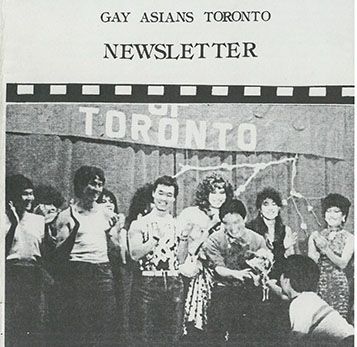 Above: Front cover of the November 1983 edition of the Gay Asians of Toronto newsletter.
Gay Asians of Toronto (GAT) was formed in 1980 by Gerald Chan, Nitto Marquez, Tony Souza and Richard Fung. Functioning as a discussion group for gay-identified Asians based in Toronto, GAT came into being after finding inspiration in 1979's Third World Conference and National March in Washington, which brought queer people of colour together. Throughout the late 80's and 90's, GAT published Celebrasian- a quarterly newspaper highlighting gay Asian poetry, prose, photography and news.
Photo Credits: The above images are all taken from the Canadian Lesbian and Gay Archives.